1. Winning
Whitsun conference (Pentacost)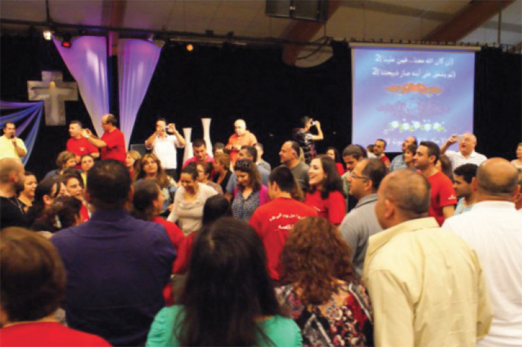 Every year Agsanal Karma organizes a Whitsun conference in the Christian accommodation 'De Kroeze Danne' in Delden. The goal of this conference is to introduce the Arabic Christians who do not have a living relationship with Christ, as well as the non-Christian (often Muslim) to the Gospel. Every year there will come about 600 to 700 people, 80 children included. Arabic speakers are invited together with an Arabic singer/ musician to conduct the worship. The team of volunteers of Agsanal Karma takes care of the follow-up for the people, of the program for the children and also for all practical issues, like preparing meals and doing the dishes, and cleaning. During these conferences the visitors and the team may witness again and again many participants coming to Jesus, being set free from evil and being cured in special ways. The last conferences 80% of the participants were muslims.
Women's conference
It is often difficult for the Arabic speaking Christians in the Netherlands to cope with the differences between the cultures they have to face every day. Many of these differences are felt in family life. A repeatedly theme is how to cope with these differences. At the yearly women's conference there will be often spoken about this subject. Women are invited by Christian friends or relatives and like to come, also thanks to well-known speakers. The team invites speakers known in the Middle East, but also in Europe, because of their appearance on the Arabic Christian television channels. During these conferences special happenings occur, like conciliation between women and their husbands and children. The women's conference is meanly intended for evangelism, but the women experience it also as a relaxing time with other women.
Youth weekends
Since the end of 2019 we have some weekends for the young people. These young men and women, sometimes teenagers, are living in two cultures and often wrestle with their identity. They also experience their believe in a different way than the young Dutch Christ followers. During these weekends they receive some coaching.
Seekers days
An important part of the activities of Agsanal Karma takes place during the so called 'Seekers days'. These days occur 6 till 8 times a year in the different regions. A location is rented and the team will invite people from the asylum seekers centres in their neighbourhood and take them personally by car or by bus to the meeting place. There will be singing and people will tell about Jesus and many visitors are touched by the Gospel. And on many days the team members and volunteers are active in the cities on local marketplaces and in shopping centres.
Outreach on Kingsday
The most important day for evangelism is probably Kings Day. In about 15 cities team members and volunteers are going out on the streets and they will show and share materials to evangelise. They will speak to people they suspect to be part of the target group. Within the teams there are people with different nationalities and therefor different languages are at hand. This way it will often be successful to speak to others in their own language. Some people will speak not only Arabic, but also Chaldean or Aramean or Kurdish.
Materials for evangelism
People who are spoken to on the streets, or come to visit at the seekers days, will not go home empty handed. For example they will receive a DVD, or a Bible or other lecture in their own language. In this way, about 5,000 till 6,000 kilos of evangelism materials are handed over every year in Western-Europe.